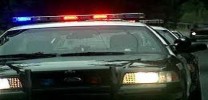 The Riley County Police Department filed a report for theft from the Home Depot in Manhattan.
This theft occurred between January 17th and 20th and involved an unknown white male approximately 5 feet 7 inches and 150 pounds.
The suspect entered the retail store and tossed several tools over the gardening center fence.
The total estimated loss in this case in $8,517.00.
The Riley County Police Department is asking for information to help solve this crime. Information can be submitted to the department or the Manhattan Riley County Crime Stoppers.
—
Arrested and still confined at the Riley County Jail was Mark Whitt, 40, of Wamego.
Whitt was arrested on January 23, 2014 for a failure to appear warrant from Riley County with the listed original offense of lewd and lascivious behavior.
His bond was set for $50,000.00.
—
Timothy Holmes, 42, of Ogden, Kansas was arrested by police on January 23, 2014 on a probation violation warrant that listed battery as the original offense.
He was being held on $5,000.00 bond.
—
Police arrested Marvin Berroth II, 47, of Manhattan on a federal warrant for criminal possession of a firearm by a felon and defacing identification marks on a firearm.
He was arrested Thursday while in the 200 block of 13th Street in Ogden, Kansas and was being confined at the Riley County Jail.