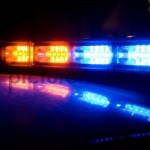 Several emergency service crews responded to a vehicle collision Monday evening.
Around 8:45 p.m., emergency crews responded to a collision on the intersection of Bertrand and 11th street here in Manhattan. Kevin Pedrigi (21), of Manhattan, was traveling north on 11th street on a motorcycle when he failed to stop at a stop sign. He entered the intersection and collided with a 2013 Ford F150 driven by Myles Copeland (20), of Manhattan.
Pedrigi was transported to Mercy Regional Hospital by Riley County EMS for treatment.
The vehicle collision is still under investigation by both K-State Police and Riley County Police.
—————–
The Riley County Police Department has conducted a series of searches in and around the jurisdiction for David Welch (54).
KMAN reported early last month that Welch had been reported missing by his family. 20 law enforcement personnel, including several members of the Kansas Department of Wildlife and Parks, spent Tuesday conducting searches of areas that would be accessible to Welch. However, these searches did not turn up any evidence that would suggest the location of him.
Welch is still considered missing at this time, and there is no information leading investigators to believe that he may be the victim of foul play. Those with information about, or know the whereabouts, of David Welch are encouraged to contact the Riley County Crime Stoppers at 785-539-7777.
Those members of the public choosing to utilize this service can remain anonymous and may be eligible for a cash reward of $1,000.