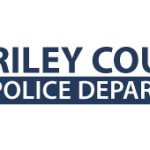 A 19-year-old Ogden man being held in connection with a murder case has now been charged with two counts of battery on a corrections officer.
Riley County Police announced Thursday that Wednesday afternoon at approximately four, the Riley County Police Department  arrested Michael Dechant on the charges, with the warrant served to him  at the Riley County Jail . Bond has been set at $15,000 on the new charges.
Dechant already faces a first degree murder charge in connection with the March death of six month old Dominick Lubrano of Ogden.
Also arrested Wednesday was Keith Blasing, 49, of Manhattan for a motion to revoke probation warrant from Riley County. Blasing was held on this "no bond" warrant at the Riley County Jail. He was arrested in the 100 block of N. 4th Street in Manhattan.
###
Riley County Police released details Thursday regarding a vehicle collision KMAN first told you about early Wednesday morning, near the intersection of Seth Child Road and Gary Ave. That accident was reported at 7:45 AM.
 Heath White, 22, of Manhattan was driving a 2008 Ducati motorcycle south on Seth Child when he attempted to make a turn onto Gary Ave. At that time White lost control of his motorcycle and collided with the pavement. White was transported to Mercy Regional health center where he was treated and released.