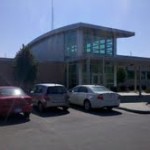 Riley County Police received a report of a theft Tuesday afternoon around seven o'clock.  The theft was said to have happened between the overnight and morning hours of Monday and Tuesday.
Gary Cadenas (23), of Manhattan, reported that his 2007 Kawasaki Ninja motorcycle was taken from the 600 block of Pierre Street without his permission.
Suspects are unknown at this time, and officers are still investigating.  The total loss is 57 hundred dollars.
——————————
An Abilene man was arrested by Riley County Police around 9 o'clock Tuesday evening for a warrant out of Dickinson County.
David Lewis (44) was originally charged with criminal threat and domestic battery, and he is now being held on a $5,000 bond.
Lewis was also arrested back in September, for warrants stemming from incidents of domestic battery, possession of opiates, opium, narcotic drugs, and/or stimulants.
——————————-
A Manhattan man was arrested, as he failed to register as an offender.
Joseph Stepney (34) was arrested tuesday afternoon by Riley County Police, and his bond was set at $10,000.