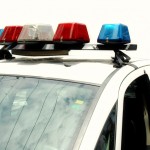 KMAN heard a report of an injury accident Tuesday morning around 10 o'clock. Although Riley County Police would not release any details at that time, they did release more details Wednesday.
The accident occurred near 4th street and Humboldt, when Elizabeth Glowacki (90), of Manhattan, failed to yield to the right of way. She was driving her 2007 Toyota Camry, when she struck a vehicle driven by Abdulrahman Aldogiher (22), of Manhattan, who was driving his 2010 Ford Fusion.
Glowacki's camry not only collided with Aldogiher's fusion, but it also struck a pole before coming to rest. Glowacki was transported to Mercy Regional Health Center for arm pain, and was cited for a traffic infraction.
—————–
A Manhattan man is behind bars on multiple charges.
Dennis Watts (24) was arrested for failure to appear, with an original offense of theft that he received Tuesday afternoon around 4 o'clock on the 60 block of Emery Place.
Watts is currently confined in the Riley County Jail on a $10,000 bond, but is also confined on other offenses. He has an additional $2,500 for burglary, identity theft, criminal use of a financial card, and theft by deception.