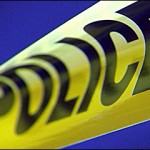 Riley County Police responded to a report of burglary in the 6300 block of Tuttle Creek Boulevard Tuesday.
The incident is said to have occurred between October 28th and November 4th.  Several items were reported stolen, including several tires, rims and one transmission.
Jacob Boyd (21) reported this burglary to police after noticing damage to a padlock and items missing from a storage shed that he was using.
Officers are still investigating at this time, and the total estimated loss is just over 31 hundred dollars.