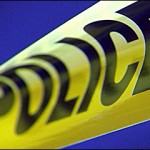 An injury accident occurred Sunday afternoon in the 100 block of E. Poyntz Avenue in Manhattan. Riley County Police indicate the accident occurred around 1:30 p.m.
A 2005 Dodge neon being driving by Barry Cole (18) of Wamego, failed to yield the right of way. This resulted in the vehicle colliding into a 2012 Honda Accord, driven by Robert Spears (76) of Winfield.
Spears and his front seas passenger, Carol Spears (72), were both transported to Mercy Regional Health Center for injuries, where they were treated and released.
——————-
Three offenses, including theft, landed a Manhattan man in jail.
Darrian Porter (20) was arrested Monday evening around 8 o'clock. Porter was charged with theft, making false information and theft by deception.
His bond was set at $6,000.