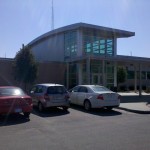 Riley County Police are still seeking tips to aide in the robbery investigation from last week at K-S State Bank on Bluemont Avenue. Those able to help are encouraged to contact RCPD or the Manhattan Riley County Crime Stoppers.
A reminder the suspect in this case may be driving a 2000 to 2005 4 door Cadillac DeVille. This vehicle is white in color and has dark handles with what appear to be stock rims and wheels. The vehicle also has dark tinted windows and was observed traveling away from the scene of this crime.
The suspect was described as  a white male in his 20's or 30's, approximately 5'7″ and slim in build weighing approximately 150 pounds. (picture of suspect is on a previous post on this website)
The case is not believed to be connected with the aggravated robbery case involving Dara's Convenience Store on November 20th. As announced last week the Dara's aggravated robbery case has resulted in an arrest and is pending court proceedings.
###
Riley County Police filed a report this past long weekend for aggravated battery and abuse of a child for an incident that occurred in November of this year. Police are still investigating and limited information will be released due to the nature of this crime and its ongoing status.
The victim in this case is a juvenile male under the age of 2 and currently suspects are not listed pending further investigation. This incident occurred in Riley County.
###
A 22-year-old Manhattan man faces a $5,000  following his arrest this past long weekend.
Limber Montejo-Rodiriguez  was arrested on a failure to appear warrant for the original offense of criminal trespass and criminal damage to property. He was arrested in the 1100 block of Laramie Street Friday at approximately 1:00 PM.
 Jonathan Stanton, 29, of Manhattan was arrested Sunday at approximately 8:45 AM while in the 1800 block of College Ave. in Manhattan. Stanton was arrested on a warrant from Missouri listing the offenses of domestic assault and false imprisonment. Stanton was held at Riley County Jail at the time of this report on "no bond."
###
Rent 4 Less of Manhattan reported a theft to police Sunday evening at approximately 5:20,  after an incident reportedly occurring the prior night. Taken from the property was a 2010 red Ford Focus valued at approximately $12,000.
This vehicle was later located by police in Columbus, Nebraska. The case is still under investigation and no arrests have been made at this time.
###
A burglary report was filed Saturday for an incident that occurred earlier in the month in the 5000 block of Murray Road in Manhattan. 54 year old Joseph Sapp of Manhattan,  reported an unknown subject cut the lock off of a storage unit that he had possession of and removed several items.
These items included a welder and leaf blower valued at approximately $1,350. Currently suspects are unknown in this case and Riley County police are still investigating.