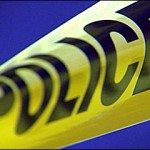 A Topeka man was arrested after failing to appear on several charges.
David Gibson (32), was arrested at the Alvan D. Johnson Law Enforcement Center after a failure to appear warrant.  The original offenses in this arrest were- possession with intent to distribute methamphetamine, three possession of drug paraphernalia charges, and criminal possession of a firearm.
Gibson's bond was set at $50,000.
——————-
Riley County Police are currently investigating an incident of rape that was reported to have happened less than one week ago.
Police initiated the investigation Monday, and are looking into an incident that involves a 19 year old female who was victimized by a suspect of approximately the same age, who is known to her.
This incident reportedly occurred in Manhattan.
——————-
The Riley County Police Department filed a report for sexual exploitation of a child on Monday.
The report stems from an incident where a 16 year old male took and distributed inappropriate images of a 13 year old female victim.  The male showed the images to some of his friends, who range in ages-but some of them are younger than he is.
This incident is said to have occurred in Riley County earlier this month, but is still under investigation at this time.