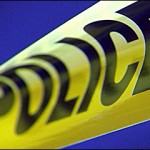 Two Manhattan residents are behind bars after reportedly stealing from a jewelry store at Manhattan Town Center.
Todd Newbrough (21) was arrested around 8:45 Tuesday evening for criminal use of a financial card, forgery, making false information, identity theft, and computer crime.  Ashley Newbrough (21) was also arrested in this incident.  She was charged with interference with law enforcement.
These arrests were prompted after an investigation into crimes committed at Kay Jeweler's.  The store was a victim, with a loss of around $3,400 worth of jewelry.
According to reports, Todd obtained a credit card with false information and purchased a ring from the jeweler.  Ashley then interfered with the investigation by attempting to hide the ring while officers conducted their investigation.
Todd was taken to Riley County Jail in lieu of a $24,000 bond.  Ashley's bond was set at just $2,000.