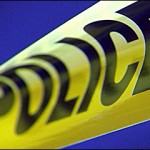 During the early morning hours Tuesday, the Riley County Police Department arrested Brett Wenger (21) of Colorado Springs, Colorado.
Wenger was arrested for the sale or distribution of illegal drugs, no drug tax stamp, and possession of drug paraphernalia.  This arrest stemmed from a traffic stop in the 300 block of Bluemont Avenue, here in Manhattan.
Police seized marijuana as a result of the investigation, and Wenger's bond was set at $10,000.
—————
A criminal damage to property report was filed after an incident took place in the 1000 block of Quivera Drive here in Manhattan.
Around 9 o'clock Sunday morning, police found that a subject, or subjects, spray painted five vehicles, a stop sign, and a fire truck owned by Phi Kappa Alpha Fraternity.
The total loss in this incident was around $5,750 and no arrests have been made at this time.
Those with information on this case are encouraged to contact the Riley County Police Department or the Manhattan/Riley County Crime Stoppers.
—————-
Several charges, starting with a driving under the influence offense, landed a Manhattan man in Riley County Jail on Valentine's Day.
Jose Narvaez (32) was arrested around 6 o'clock Friday morning for DUI, refusal of a breath test, driving while license is suspended, revoked or cancelled, and failure to report an accident.
Narvaez was arrested in the 900 block of Mission Avenue and his bond was set at $7,000.
—————–
Riley County Police have filed a report for rape within the city limits of Manhattan after an incident involving a female victim and male subject who was known to her.
This report was filed Saturday morning around 11:15, approximately one day after the incident occurred.
There are no additional details available at this time.
—————–
A report of rape was filed Monday, in the city limits of Manhattan.
According to Riley County Police, a 22 year old victim reported she had been previously taken advantage of by a subject of similar age who is known to her.
No additional details are available at this time.
—————–
A Blue Rapids man was arrested after failing to appear on a warrant.
Jason Smith (38)was arrested by Marshal County Sheriff's Office for a Riley County District Court warrant, with the original offense of giving a worthless check.
Smith's bond was set at $5,000.