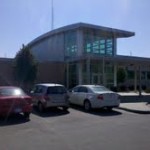 After a Manhattan man was found to have drugs, he reportedly battered a police officer, and landed himself in jail.
Tracey Toliver (27) was arrested around 8:30 Tuesday morning for possession of marijuana, possession of drug paraphernalia, and battery on a law enforcement officer.
Toliver faces previous charges from other arrests as well, including criminal damage to property charges from October.
His bond was set at $16,000.