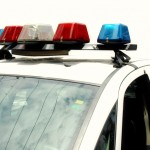 Officers with the Civil Process and Warrants Unit made an arrest around 3:15 Monday afternoon at the Riley County Courthouse Plaza.
Robert Labarbera (27) of Manhattan was taken into custody for a warrant listing three counts of  forgery and three counts of theft.
His bond was set at $5,000.
———————-
With winter weather upon us, please remember to reduce traveling speed as well as increase your following distance between vehicles. Using cruise control can make winter driving more dangerous and with slick roads present over correcting can increase your risk of losing control. RCPD advises that drivers stay home when possible and drive with care when you must be out on the road. As always, check on elderly neighbors and community members who may require assistance and make sure to supply pets that must be outdoors with proper shelter.