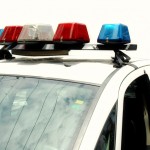 An aggravated battery and aggravated arson were reported around 4 a.m. Wednesday here in Manhattan.
Riley County Police received the report and responded to the 1500 block of Pipher Lane.  Police made contact with Christopher Robinson (43), of Manhattan, who had been involved in an altercation with a subject known to him involving a small amount of flammable liquid.
This liquid contacted with Robinson's skin and was ignited, which resulted in minor injuries.  The injuries did not require emergency transport, but an arrest was made in connection with the incident.  Christopher Christoffersen (31), of Manhattan, was arrested, and his bond was set at $15,000.
——————-
A Manhattan man faces a large bond after being arrested on a Pottawatomie County warrant.
Charles Bradford Jr. (66) was arrested by Riley County police Tuesday evening, around 7:30.  The original offense the warrant stemmed from was identity theft or fraud.
Bradford Jr.'s bond was set at $5,000.
——————-
Riley County Police filed a report for aggravated indecent liberties with a child Tuesday afternoon around 3:15.
This report stems from instances of inappropriate touching of a female child victim under the age of 11 by a subject, or subjects, known of a slightly older age.
This incident reportedly took place in the Manhattan /Riley County area.