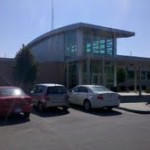 An Ogden man is behind bars after being arrested around 11:30 Wednesday evening.
Kamal Fajri (34) was arrested on a warrant stemming from incidents occurring in January of this year.  The offenses listed on this warrant are fleeing or attempting to elude a police officer and driving while license is canceled, suspended or revoked.
Fajri was arrested by Riley County Police at the Alvan D. Johnson Law Enforcement Center and his bond was set at $15,000.
—————-
Two failure to appear warrants from the City of Manhattan landed a Lawrence man in jail.
Raul Cantu (41) was arrested around 6:15 Wednesday evening.  Both warrants stemmed from the offenses of driving while under the influence of alcohol, no driver's license, and improper driving on a roadway.
His bond was set at $9,000.
—————–
A California woman was arrested while she was at the Alvan D. Johnson Law Enforcement Center around 9:45 Wednesday night.
Alicia Bondurant (25) was arrested on five local warrants with the offenses of- theft, probation violation and three failure to appear charges.  Original offenses include possession of opiates, opium, narcotics or certain stimulants, possession of hallucinogenic drugs, and sale or possession with intent to sell hallucinogens.
Bondurant was placed in Riley County Jail on a "no bond" warrant.