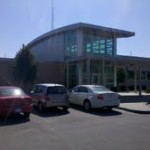 KMAN has received more information regarding an arrest connected to an arson incident we first told you about Monday morning.
Riley County police told reporters monday morning that Steven Meredith (26) of Ogden was arrested Saturday night on a warrant for arson and criminal threat.
The criminal incident took place in January of this year when Meredith allegedly made a violent threat against Derek Shepard, also of Ogden.
Meredith also allegedly set fire to Shepard's 1995 GMC pickup truck in February of this year.
A third charge of interfering with a law enforcement officer was removed, and Meredith's bond was dropped from $8,000 to $5,000.
####
A vehicle burglary leads to a significant loss for a Manhattan man.
Daniel Espinoza (51) reported to Riley County police that sometime between 9:30PM on Thursday and 9:45AM on Friday, and unknown suspect entered his vehicle and removed a heart monitor, a handbag, and an electric guitar with a case. There was no sign of entry, and Espinoza is sure the vehicle was locked.
Total loss is $2,000 and police are investigating.
####
A residential burglary results in the loss of several weapons.
Riley County police told reporters on Monday that sometime between 9:30AM  and 3:45PM Sunday, an unknown suspect entered the home of  Eddy Sanchez (23) located on the 800 block of Allison Ave. and removed several guns, magazines, and ammunition .
No arrests have been made in this case, and total loss is $7,000
####
Several electronic items are missing as a result of a vehicle burglary.
Sometime between 10:00 Saturday night and and 3:00 Sunday morning, and unknown suspect made entry into the unlocked vehicle parked at the 2500 block of Farm Bureau Rd owned by 38 year old Ryan Stokley of Alma and removed property from the vehicle.
Taken was a Samsung cell phone and an Apple iphone. Total loss in this case is $1,000. Police are investigating.
####
A routine traffic stop leads to a drug arrest.
Riley County police report that  Richard Jackson (39) of Manhattan was stopped near 401 East Poyntz and Sarber Ln at 8:40 Sunday night.
Upon investigation, police arrested Jackson and charged him with possession of methamphetamine, possession of a controlled substance and drug paraphernalia , and driving on a revoked drivers license.
Jackson was transported to Pottowatomie county jail and no bond information is available.
####
A Manhattan man is faces additional charges after being arrested last week.
Riley County police told reporters on Monday that Joshua Davies (25) was arrested at 4:00 Thursday afternoon and charged with probation violation, failure to appear, possession of hallucinogens and opiates, possession of paraphernalia , and three counts of violating a protection order. Bond was set at $29,000
Davies was also served a warrant from Shawnee county on Monday charging him with domestic battery, intimidating a witness, and endangering a child. No bond was issued for this warrant.