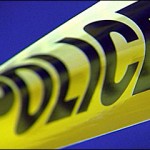 KMAN has received additional details about the vehicle accident on Anderson that occurred Monday, involving a cement truck.
Riley County Police, Riley County EMS, and Manhattan Fire all responded to the single vehicle accident in the 6200 block of Anderson around 12:15 that afternoon.  This collision occurred when a cement truck was going westbound, ran off the road and turned onto its side.
During the collision, a wooden utility pole and a metal sign post were damaged.  The driver is listed as -Jerry Bellinder (50) of Manhattan.  Bellinder was transported by Life Star to Topeka for serious injuries.
————
Riley County Police are currently investigating a vandalism
Officers responded to the 500 block of Richards Drive in Manhattan, for a report for burglary and criminal damage to property.  Pepsi Cola Bottling Company reported that two soda vending machines and one snack vending machine were damaged.
During the vandalism, money was taken from the machines.
No arrests have been made, however officers say there was an estimated 24 hundred dollars worth of damage.