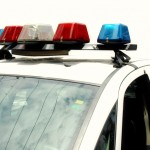 The Riley County Police Department, Manhattan Fire Department, Riley County EMS, Lifestar and other agencies, will partner up to participate in an emergency services educational training exercise this Friday.  Due to this training, Poyntz Avenue will be closed to traffic from Sunset to Oak Drive that morning from 7:45 until 10:30.
This exercise will involve a simulated vehicle collision for the purposes of educating students and staff of Manhattan Ogden USD 383 on the dangers of driving distracted or intoxicated.
Though there will be an increased amount of emergency personnel in the area, please be reminded that this is only a simulated response for the purpose of training and educations.
——————–
A Wichita man is confined in Riley County Jail after failing to appear.
Marquez Gails (31) was arrested around 7:30 p.m. Monday for failing to appear, on a case from 2011 stemming from driving while cancelled, suspended, or revoked.
His bond was set at $5,000.
———————
The Riley County Police Department responded to a complaint of burglary earlier this week in the 1200 block of Bluemont Ave at the new Bluemont Hotel construction site.. This burglary occurred between the 18th and 21st of this month and the missing items included a Motorola radio with charger, green safety vests, a microwave, and job site keys.
Central Mechanical Construction reported to police an unknown subject(s) entered the construction site and took the items valued at $1,130. Those with information are asked to contact RCPD or the Manhattan Riley County Crime Stoppers
####
Riley County Police filed a report for burglary on Monday, for an event that occurred during the overnight hours of Sunday.
Crystal Beamer (26), of Ogden, reported that overnight an LED television and several pieces of jewelry were taken from her home by an unknown subject.  The total estimated loss in this incident is just over $2,000.  There was no forced entry into the homes, and police are asking for help in further this investigation.