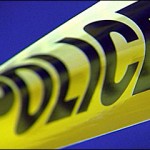 A Manhattan man has faced several arrests in his past, and was arrested yet again around 8 p.m. Tuesday evening.
Tracey Toliver (27) was arrested in the 500 block of Kearney Street, for a warrant for motion to revoke probation. The original offense in this case is listed as domestic battery, with a bond of $2,500.
At the time of his arrest, he made threats against and scuffled with two officers on scene.  Toliver was arrested additionally for assault of a law enforcement officer, interference with law enforcement, criminal threat, and two counts of battery of a law enforcement officer.
His total bond was set at $22,500.  No significant injuries were reported from this incident.
Toliver has faced different charges in the past-including a possession of marijuana charge in February and criminal trespass in January.
——————
Riley County Police arrested a Manhattan man Tuesday afternoon, after finding out his license had been revoked.
Jonathon Cargal (19) was arrested around 12:15 p.m. that day at Powerline Place in the northeastern portion of Manhattan .  Cargal was charged with driving while revoked and being a habitual offender.
His bond was set at $5,000.
——————-
Riley County Police filed a report for electronic solicitation Tuesday afternoon, regarding an incident that occurred earlier this month.
The incident is said to have involved a 14 year old female in Manhattan.  Police are investigating claims that a 19 year old male from out of state sent sexually explicit messages to the female through internet communication.
No arrests have been made at this time.