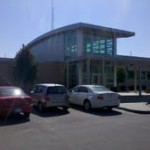 An out of town visitor gets a surprise after leaving a local resturant.
 Kevin Kuntz (21) had just exited Longhorn steak house located at 505 Tuttle Creek Blvd. just after 9:30 Thursday night when he discovered that his golf clubs had been taken from the bed of his pickup truck. Total loss in this case is estimated to be $1,000. There are no suspects, and police are investigating.
###
A habitual violator status leads to an increased bond.
Riley County police told reporters on Monday that Rolando Cantu (40) of the 500 block of Colorado St was stopped for a minor traffic violation near the intersection of 5th and Pierre at around 8:20 Friday morning.
Upon investigation, it was found that Cantu was driving on a revoked drivers license. He was taken into custody, and since he was a habitual offender, his bond was set at $6,000.
Cantu posted bond, and was released.
###
A Manhattan woman is behind bars as a result of a probation violation.
Riley County police told reporters on Monday that Salena Wolf (29) of the 2600 block of Georgetown Pl. was arrested just after 10:00 Friday morning on a warrant out of Sumner county. The original charge against Wolf was DUI.
Bond was set at $5,000
###
A local man has his home burglarized, but does not have to wait long before his property is returned.
Riley County police told reporters on Monday that sometime between 11:00PM Saturday and 2:00AM Sunday, an unknown person entered the home of Samuel Shelly (22) and removed an x box gaming system, assorted games, a laptop, cash, and a duffel bag. Estimated loss in this case is $1,270.
Later Sunday morning, a patrol officer spotted  Benjamin Galvan (18) of the 1500 block of Tuttle Creek Blvd riding a bicycle down Juliet with a large object in front of him on the bike. Upon investigation, it was discovered that the duffle bag was the same one stolen from Shelly, and it contained the rest of the items stolen as well.
Galvan was arrested and charged with burglary and interference with a law enforcement officer. He is still confined on a $15,000 bond
###
A Fort Riley soldier is without his car after a theft this weekend.
John Headley (31) of the 3100 block of Lunden Dr. Reported to Riley County police that he parked his 2007 Ford Fusion on the street in front of 1100 Village Dr. just after midnight Saturday morning. When he returned later that morning around 8:00, he discovered that the car had been taken, along with a cell phone and an army dress uniform that had been in the vehicle.
Total loss is $11,700 and police are investigating.
###
Multiple DVDs are missing after an incident of theft reported over the weekend.
Riley County police told reporters on Monday that Tanya Wright (50) of the 2000 block of Brockman St. reported to them Friday that someone known to her took over one hundred Disney DVDs and a cell phone from her sometime between January 2012 and Friday. Total loss is $1,650.
Police are investigating and no arrests have been made.