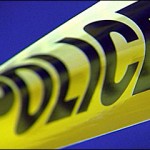 Riley County Police arrested a Manhattan man after failing to appear.
Andreas Holloway II (23) was arrested around 3:30 Monday afternoon while at the county police department.  The failure to appear warrant listed an original offense of drugs.
His bond was set at $15,000.
—————
An Ogden man was arrested around 7:45 Tuesday evening for drug charges.
Riley County Police arrested Kerry Foreman (38) for possession of methamphetamine, possession of a controlled substance, possession of marijuana and possession of drug paraphernalia.  This arrest took place in the 400 block of 14th street in Ogden.
His bond was set at $5,000.
—————-
A Junction City man was placed in Riley County Jail after he was arrested Tuesday morning.
Jamear Robinson (21) was arrested on a warrant out of Bell County, Texas.  The original offense for this warrant was motion to revoke probation for arson of a building.
He is confined on a "no bond" warrant.