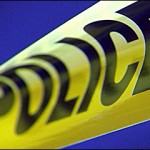 KMAN has received more details regarding a story we first told you about this morning. As reported, Ralph Walters (58), who has been identified as homeless, was taken into custody around 8:30 Saturday evening.
Walters allegedly entered the home in the north east part of Manhattan and fondled one of the residents who was intoxicated at the time.
He was charged with aggravated burglary and aggravated sexual battery.
Bond was set at $10,000.
####
The music has ended, at least for one Manhattan man who is now missing his musical instrument.
Riley County Police told reporters on Monday that Gordon Lewis (37) of Browning Ave in Manhattan reported to them that he placed his bass guitar behind his pickup truck and left for just a few moments.
When he returned, the guitar was missing along with the case, some earplugs, cables, a strap, and a guitar amplifier.
Total estimated loss is $2,375. Police are investigating.
####
Riley County police are investigating a case of residential burglary that took place over the weekend.
Police report that sometime between 7:30 Friday evening and 3:00 Saturday morning, an unknown suspect entered the home of Joseph Spanier (21) located on the 2200 block of NorthView in Manhattan and removed cash and a safe. A door was also damaged during entry.
Total loss and damage is estimated to be $2,400
####
An incident of theft took place over the weekend in which a tent was taken from a local residence.
Riley County police told reporters on Monday that a large tent was taken from the yard of a residence located at the 1015 Ratone sometime between 11:00 Saturday night and 9:30 Sunday morning.
Total loss is $2,000 and police are investigating.