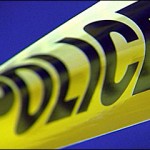 Riley County Police filed a criminal damage to property report after the City of Manhattan became a victim.
Some time between April 20th through Tuesday, a fire extinguisher case, a glass window and a street light were all damaged in the 500 block of North 3rd street.  The fire extinguisher was also taken as a result of the incident, and the total loss is estimated around $1,500.
These crimes took place in the parking garage located in that area, and it appeared to have been done by a pellet or BB style gun.
As KMAN has previously reported, The City of Manhattan also had  several lights surrounding a flag pole at 14th and Poyntz destroyed recently.
Police are currently investigating that criminal damage to property incident as well, and the estimated loss is around $2,500.
It is unclear whether these crimes are related, but anyone with information about either crime is encouraged to call RCPD at 537-2112, or Manhattan Riley County Crimestoppers.
————-
Riley County Police responded to a complaint of burglary Tuesday evening.
Bryan Fortune (25) reported to police around 5:45 p.m., that sometime during the past month an unknown subject or subjects entered his home and removed several electronics, including an XBOX 360.  Several pieces of jewelry were also taken from the residence.
The total loss estimated in this case is around $1,935.  No arrests have been made at this time, and police continue to investigate.