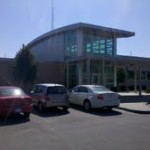 Multiple firearms are stolen during after a break in at a local apartment.
Riley County police responded to a report of a burglary that took place sometime between 6:00 Friday evening and 3:00 Sunday afternoon at an apartment located  on the 1400 block of Humbolt St. The victim,Quentin Waite (22) reports that it appears as though someone forced entry into his bedroom and removed multiple handguns, a rifle, and a shotgun. Total estimated loss is $2,120.
Police are investigating.
####
Two victims report damage to vehicles in an incident of criminal damage to property that took place over the weekend.
Riley County police told reporters on Monday that sometime between 10:30 Friday night and 10:30 Saturday morning, a moped owned by Kylee Brown (20) and a brown Suburban owned by  Lon Vass (52) was damaged by having multiple scratches placed all over their bodies. The incident took place at the 800 block of Moro and the suspect is known to both victims.
The damage is estimated to be around $2,500 and police are investigating.
####
A Topeka man remains confined after being arrested on a failure to appear charge.
Joshua Davies (26) was taken into custody at 4:00 Friday afternoon after he failed to appear in court on a previous charge of possession of methamphetamine.
Bond was set at $10,000.