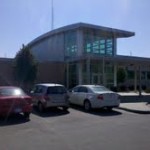 Two Manhattan residents are behind bars for failure to appear charges.
Gina Jones(20) was arrested just after 5 o'clock Friday evening for failing to appear on a misdemeanor charge.
Her bond was set at $7,500 and she is currently confined.
Also arrested Friday evening, was Jason Chandler(40). With an original misdemeanor charge, Chandler was arrested around 6 o'clock for failing to appear.
His bond was set at $25,000 and he is currently confined.