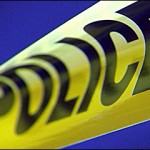 After being charged with burglary, an Ogden man is behind bars.
Bobby Pearson (29) was arrested on the 400 block of Fort Riley Boulevard around 9:45 Sunday evening.
Pearson received two felony level vehicle burglary charges. His bond was set at $15,000 and he is currently confined.
——–
Two charges landed an Ogden man in trouble Sunday afternoon.
Around 3:15, Sal Tucker (48) was arrested by Riley County Police for violating his probation, and obstruction of the legal process.
His bond was set at $3,500.