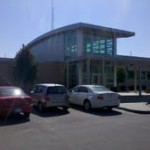 A violent threat against a police officer results in a warrant issued to a Manhattan man.
Cody Fegan (30) of the 1400 block of Claflin Rd. was arrested just before 5:00 Friday night on a warrant stemming from an incident that took place on March 13 of this year in which he made verbal and violent threats against a police officer.
Fegan remains confined on a $10,000.
###
Riley County police are investigating a case of criminal damage to property that took place over this past weekend.
Kansas State University student Brooks Bane (21) reported to police that sometime between 11:30 Friday night and 1:15 Saturday morning, someone unknown to him damaged the rear bumper of his 2010 Dodge Challenger. The damage appears consist ant with someone kicking it and striking it with a blunt object. Several dents were also found on the passenger side of the vehicle.
Total damage is estimated to be $1,000
###
A habitual offender charge leads to a large bond amount for a Manhattan man.
Riley County police told reporters on Monday that  Gregory Haramas (52) was arrested just after 4:00 Saturday afternoon and charged with driving on a cancelled, suspended, or revoked drivers license and being a habitual offender.
Since Haramas was charged with being a habitual offender, his bond was set higher than usual at $5,000.
###
Riley County police are looking for the owners of several vehicles that suffered damage while parked along a street this weekend.
Police report that sometime between Saturday and Sunday, five vehicles parked along the 1400 block of McCain had their mirrors damaged. The damage is estimated to be $2,000, and police are looking for the owner of these vehicles.
###
A local woman is missing some electronics after an incident of theft.
Natasha Jones (27) reported to Riley County police, that someone known to her took possession of a 42 inch flatscreen television and a laptop sometime between noon last Wednesday and 7:30 Sunday evening.
The estimated loss in this case is over $1,000 and police are investigating.
###
A Manhattan man was taken into custody after an incident of aggravated assault over the weekend.
Riley County police told reporters on Monday that Michael Hodge (24) of the 3000 block of Grand Mere Pkwy, allegedly pulled a gun on three victims Saturday night after an altercation. Hodge fled the scene, but officers were able to find him after being given a vehicle description at the scene of the incident. Hodge was taken into custody, and bond was set at $5,000.