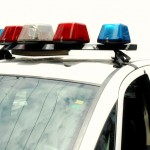 What was reported as an "assault" Wednesday morning, is now being reported as an aggravated battery.
Around 6:45 this morning, Riley County Police responded to a call on the 400 block of Fremont.
An unknown black male came at the male victim with a sharp instrument.  As a result, a short physical altercation took place.  The victim received several lacerations to his upper body, but it is unknown at this time whether he was transported for medical treatment.
Public Information Officer, Matt Droge stated that the definition of "assault" does not involve any type of physical altercation.  Therefore, depending on the severity of the injuries, this is actually a battery or aggravated battery case.  Droge said, considering the there was a sharp object involved, he suspects it is aggravated battery.
KMAN will bring you more details on this incident as they become available.
—————
A homeless man faces a large bond after failing to appear on a misdemeanor charge.
Blake Lagabed (20), was arrested around 4 o'clock Tuesday afternoon on the 700 block of North Juliette Avenue.
Lagabed failed to appear on a charge out of Pottawatomie County.  His bond was set at $5,000.