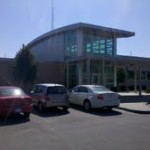 A man and a woman were transported to Irwin Army Community Hospital Saturday after a one vehicle accident on Fort Riley Boulevard.
Riley County police indicate the accident occurred after Matthew Dicristo, 20, of Fort Riley slammed on his motorcycle's brakes to avoid a rear end collision. Dicristo flipped his motorcycle and sustained non life-threatening injuries to his hands and road burn.
Alyssa Malott, 22, of Fort Riley sustained road burn and injuries to her hand and wrist.
Dicristo and Malott were treated and released from the hospital. Both were wearing helmets.
A citation was issued to Dicristo for following too closely.
####
A Riley County man faces a variety of charges after being arrested this weekend.
Matthew Prayso, 45, of Manhattan is being held in the Riley County Jail with no bond.
Reports from over the weekend indicate that Prayso was arrested for domestic battery, drug related charges and criminal trespass.
####
Riley Police police announced Monday a burglary was reported to their office Friday evening.
Joshua Smith, 22, of the 1100 block of Vattier reported an unknown suspect entered his home via window and removed several items valued at $1,300 including a laptop, Xbox Kinect and an Xbox video game.
Currently there are no suspects, but officers are still investigating the case.