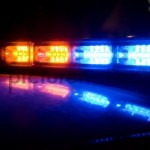 Riley County Police responded to a verbal argument Monday evening, which escalated and involved two firearms.
Around 9:35 that evening, police filed a report for kidnapping, aggravated assault, aggravated endangering of a child, criminal discharge of a firearm, and aggravated robbery, that is said to have occurred in the 3000 block of Sandstone Drive here in Manhattan.
Police found Kevin Flynn (26) of Manhattan, after he had discharged a handgun into an apartment wall, and arrested him for the aforementioned offenses.  Flynn also reportedly held a 28 year old male victim at gunpoint with a shotgun, and took this victim's mobile phone.
During this incident, a three year old child and a 24 year old female were present, however they were unharmed.  Minor injuries were sustained, but not inflicted by gun shot.
Flynn's bond was set at $30,000.
————————
A Colorado man was arrested by Riley County Police Monday afternoon.
Around 1:30 p.m., police arrested Ryan Holle (36) of Colorado Springs for three counts of battery of a law enforcement officer.
These charges actually stem from warrants from an incident that occurred back in July of 2013, when Holle battered three corrections officers at the Riley County Jail.
His bond was set at $5,000.
————————-
Riley County Police filed a report for rape in the city limits of Manhattan between two adults who knew each other.
This incident occurred within the past month and involved a 30 year old female and a male suspect of an unknown age.
Police are continuing to investigate the matter, and no arrests have been made at this time.
————————–
A report was filed, by Riley County Police, for an aggravated indecent liberties with a child incident that is said to have taken place between February and June of this year in the city limits of Manhattan.
This incident was actually filed around 11:30 Monday evening.  The victim, a 14 year old female, reportedly had consensual intercourse with an 18 year old male.
Police are continuing to investigate this matter, but no arrests have been made yet.