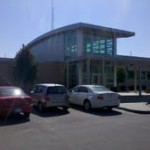 A Riley County male was arrested and still confined following several charges.
Brett Tahkofper, 21,  of the 3000 block of Tuttle Creek Boulevard was arrested Friday from warrants out of Geary County for two seperate counts of violation of probation.
His bond was set at $20,000.
####
The Riley County police department were informed of a criminal damage that occured between the 14th and 15th of this month.
Police say that Roger Adams, 44,  of Manhattan reported that an unknown suspect had damaged his vehicle on the 1600 block of Humboldt.
The suspect damaged the vehicle with a folding chair and fled the scene.
The damage is estimated at $1,800 dollars and the case is still under investigation.
####
A theft that occured in 2011 has been reported to the Riley County police department.
Robert Caley, 69, of Green, Kansas reported that a suspect known to him took miscellaneous goods and services including unpayment for work.
The reported theft was between April and May of 2011 in Randolph, Kansas. Estimated loss is $2,188.