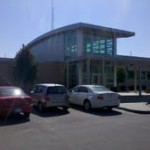 A bad decision leads to the arrest of a local man.
Bryan Maclean (20) of the 7000 block of Normandy in Fort Riley had been off roading in his Chevy Blazer when it became stuck in a muddy ditch Sunday afternoon.
Maclean decided that the best way to extract his vehicle from the ditch was to go to a nearby lot owned by Midwest Concrete and Materials, break open the security gate, and take a cement truck to pull his vehicle out.
However, before he could do this, the cement truck became stuck in the ditch as well. Police arrived on the scene to find Maclean on the scene with both vehicles. He was charged with criminal damage to property and criminal trespassing. There was $200 th of damage to the gate, and there was no damage at all to the cement truck.
Bond was set at $1,000.