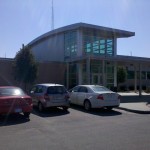 A domestic situation leads to some criminal damage to property.
The Riley County Police Department reported they were told of a criminal damage to property incident which occurred back in April.
The suspect and victim know each other.
There was about $3,000 worth of damage done to a vehicle.
The investigation continues.
—-
KMAN reported of a motorcycle and vehicle accident which occurred Thursday evening in the intersection of Allen and Casement.
After talking to the Riley County Police department, the man driving the motorcycle was treated on scene by EMS for minor scrapes and cuts, but was not transported.
Both the vehicle and the motorcycle had to be removed by a wrecker service.
RCPD did not confirm, however, the account of the incident as was described by witnesses at the scene.
According to them, the vehicle ran the stop sign striking the motorcycle and eventually hitting a nearby pole.
Traffic was impacted in that area for a couple of hours.
No citations have been made at this point, but the investigation continues.