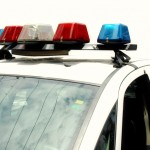 Riley County Police responded to a disturbance in the 500 block of Richards Drive in Manhattan Monday afternoon.
Upon arrival, officers found that a man struck a Four Points by Sheraton employee in the face after being asked to leave.  Officers made contact with Terry Pierce (26), who is listed as homeless.
After being detained, Pierce kicked the back passenger window out of a patrol car.
Police arrested Pierce for battery and criminal damage to property.  His bond was set at $3,000.