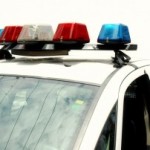 When two Manhattan residents stepped into a local business Tuesday, around 1:30 in the afternoon, they had no idea they would be leaving in handcuffs.
Laura Heffner (31) and Derek Beerbower (28), who both reside at the same Manhattan address, were arrested on the 2300 block of Tuttle Creek Boulevard.  Both were shopping in the Wildcat Pawn business, where Riley County Police officers were investigating a separate case.
Police saw that both individuals seemed to be "impaired" and decided to approach them.
Heffner and Beerbower both received possession of methemphetamine, possession of drug paraphernilia and child endangerment charges.  Both of them are being held on 25 hundred dollar bonds.
Riley County Public Information Officer, Matt Droge indicated the individuals had the drugs on them while they were at the pawn shop.  The one year old child that was with them was taken into police protective custody.
—————
Three failure to appear charges, and one probation to provoke parole charge, landed a Chicago woman in Riley County jail.
Luciana Sanders (37) was arrested around 1:30 Wednesday morning. Original charges include-forgery, obstruction of official duty, possession of marijuana, and writing a worthless check.
Sanders's bond was set at $9,750 and she is currently confined.
—————
A St. George man is confined in Riley County jail after failing to appear.
Michael Reid (26) was originally charged with possession of marijuana and possession of drug paraphernalia .
He is currently being held on a $6,000 bond.