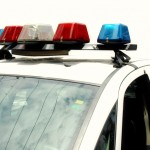 Police are searching for an SUV after a Manhattan man was shot in the foot with a pellet gun Tuesday afternoon.
Riley County Police officers responded to the intersection of North Juliette Avenue and Laramie Street after Gerald Lucking (24) was shot in the foot.  Police say it was a pellet/BB gun that was used, so injuries were not severe.  However, they are still currently looking for information on a darker color early 2000's SUV that had several passengers at the time.
If you have any information about this crime, contact RCPD or the Manhattan Riley County Crime Stoppers.
————————
Riley County Police filed a report for rape just after midnight on Wednesday.
This crime is said to have occurred in Junction City between two people known to each other.  No arrests have been made at this time.