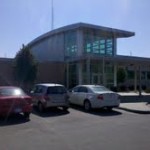 Riley County Police arrested a Manhattan woman on a warrant for failure to appear.
Catrien Van Petten (26) was arrested while at the police department Tuesday morning.  The original offense for the failure to appear charge was refusal to submit to testing.
Her bond was set at $5,000.
——————–
The Riley County Police Department will be out at the Riley County Fair.
Officers will be handing out badge stickers, coloring books and more.  They will be meeting with the public as well, and answering questions about the department and local laws.
Members of the public will also have the opportunity to sign up for IRIS emergency alerts.
If you are at the fair grounds in Manhattan between 5 p.m. and 9 p.m. Thursday through next Monday, the department encourages you to stop by the booth.