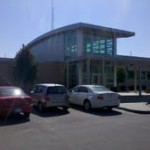 A theft led the Riley County Police on a high speed chase Saturday afternoon.
Riley County Police say Stephanie Rush, 28, of Eskridge, took possession of several items from the jewelry and make-up counters at Wal-Mart and got into a vehicle.
Police officers followed the vehicle and attempted a traffic stop when the vehicle fled to U.S. Highway 24 near St. George and then entered Kansas Highway 177 driving south to I-70.
The vehicle came to a stop in Wabaunsee County and Rush was arrested.
Charges from the incident include reckless driving, fleeing and eluding and theft. She was treated and released from Mercy Regional for an evaluation, no injuries were reported.
Bond was set at $15,000 dollars.
####
A traffic stop led to a one-vehicle accident early Sunday morning.
Cornel Evans, 40, of the 600 block of Manhattan Avenue was stopped for a speeding violation while on 15th street.
Evans' vehicle did not come to a complete stop which led to his car colliding with a fence owned by the city of Manhattan. After the collision Evans was taken into custody.
Charges for Evans include reckless driving, driving under the influence and fleeing and eluding.
Evans is still confined with bond set at $10,500.
####
An injury accident sends one to the hospital Monday morning.
Riley County Police say Samuel Snead, 50, of Kansas City was driving too fast while heading westbound on I-70 to exit at Deep Creek Road.
Snead could not stop his vehicle during the rainy weather which caused the vehicle to leave the roadway, hit a rock and damage a tire.
Passenger Vera Snead, 77, was taken to Mercy Regional where she was admitted for back pain.
A citation was issued to Samuel Snead for unsafe speed for prevailing conditions and for not registering his vehicle.
####
An outside warrant from Texas sends one local man to Riley County Jail.
Robert LaBarbera, 26, of the 1700 block of Vaughn Drive was arrested Saturday night for criminal use of a financial card.
LaBarbera is still confined with no bond.
####
A failure to appear charge sends a California man to Riley County Jail.
Christopher Marinelli, 34, was arrested Sunday morning for failing to appear for an aggravated assault charge.
Marinelli is still confined with bond set at $20,000.