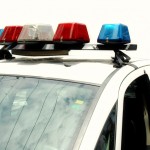 Riley County emergency crews responded to a vehicle collision around 3:20 Monday afternoon.
The collision occurred near the intersection of Fort Riley Boulevard and Poliska Lane here in Manhattan.  Police reported that Albert Amaro (83) of Manhattan, was driving a 1995 Buick Skylark eastbound on Fort Riley Boulevard behind Donald Thorton (51) of Manhattan.  Thorton was driving a 2004 Chevy 1500 pickup, and was awaiting a left turn in the inside lane.
Amaro failed to stop or change lanes, and collided with Thorton, which resulted in injuries.  Amaro was transported to Mercy Regional for complaint of back and head pain, as well as several lacerations.
The collision is still under investigation at this time, and no citations have been issued yet.