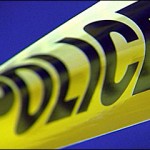 Lee Mill Village reported that they had become a victim of criminal damage to property on Monday at approximately 1o' clock that afternoon.  The homes are located off Lee Mill Circle, which is off of Miller Parkway in the southwest portion of Manhattan.
The homeowners reported that the pool bathrooms had been destroyed by a blunt object.  This damage created over $3,000 worth of needed repairs and currently police have not made any arrests.
If you have any information about this crime, contact RCPD or the Manhattan Riley County Crime Stoppers.
——————
A man listed as being homeless was arrested Monday afternoon for two failure to appear warrants.
Riley County Police arrested Frank Cooper Jr. (42) on two Nemaha County warrants.
His bond was set at $50,000.
——————
A Junction City man was arrested Monday evening while at the Riley County Police Department, for two warrants.
Bomani Gordon (20) was taken to the Riley County Jail for the two warrants-the first of which is for motion to revoke probation and the second is for failure to appear.  The original offenses listed on these warrants were contempt and residential burglary.
Gordon's bond was set at $5,500.
——————
Police Officers in Harvey County arrested a Wichita man on a warrant out of Riley County.
Kent Misak (58) was arrested for failing to appear on the warrant, which stems from a theft of property case.
Misak's bond was set at $5,000.
——————-
Riley County Police filed a motor vehicle theft report in the 600 block of 4th street in Manhattan.  The incident is said to have occurred Monday morning.
Virginia Houser (59), of Manhattan, reported that her 2003 Honda Civic was taken from her home by an unknown subject.  The total estimated loss is $5,000 and police encourage anyone with information on this vehicle to contact the Manhattan Riley County Crime Stoppers.