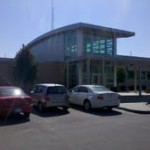 Multiple drug charges sent one man to Riley County Jail Wednesday.
Marcus Bates, 25, of Manhattan was arrested for offenses which included possession of methamphetamine with intent to distribute, sale of methamphetamine, unlawful possession of certain drug precursors, unlawful use of a telecommunication device and a felony charge of paraphernalia.
Bates is still confined with bond set at $40,000.
This arrest stems from ongoing investigations into the sale and distribution of illegal narcotics in the Manhattan and Riley County area.
####
An outside warrant places a homeless woman in jail Wednesday afternoon.
Mistie Garcia, 45, was arrested in the northern portion of Manhattan on a warrant from Osage County for a probation violation.
Garcia is still confined in Riley County Jail with bond set at $10,000.