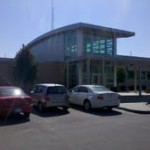 The Riley County Police Department responded to a vehicle collision that occurred early Thursday morning.
Dolores Cammack, 56, of Manhattan was traveling west on Marlatt Avenue in her 2002 Buick LeSabre when she collided with the rear end of a Bobcat skid loader that was travelling in the same direction.
The driver of the Bobcat, Zachary Hanner, 25, of Manhattan was transported to Mercy Regional Health Center for complaint of neck pain.
Cammack was also transported to Mercy for pain in her leg near her ankle.
No citations have been issued at this time. The Riley County Police Department are still investigating.
####
The Riley County Police Department has arrested a Manhattan resident for drug-related charges.
Garland Hull, 50, of the 300 block of 5th Street was arrested Thursday night for two counts of selling oxycodone and two counts for the use of a communication device to facilitate a drug transaction.
Bond for Hull was set at $5,000.
Hull is no longer confined in Riley Jail.