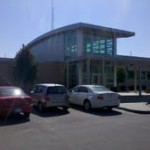 Riley County Police arrested two subjects for drug offenses on Tuesday, at approximately 8:30 p.m.
After officers initiated a traffic stop for a traffic violation, Ashley Brandon (32) of Manhattan, was arrested for possession of opiates, opium, or narcotic drugs and possession of methamphetamine precursors.
Chad Russell (35), also of Manhattan, was arrested at the same time for possession of methamphetamine.
Brandon's bond was set at $4,000, while Russell's was set at $6,000.
—————-
A Hutchinson man was arrested by officers from the Reno County Sheriff's Office, on Saturday, for two Riley County warrants.
Lucas Mobley (31) faces warrants for motion to revoke probation, with an original offense of driving while suspended and possession of drug paraphernalia.
His total bond is set at $5,000.
—————–
Riley County Police filed a report labeled as "window peeping" on Tuesday.
The incident is said to have occurred in the 3400 block of Woodduck Way in Manhattan.  Reports made to police said that an unknown white male was seen standing outside of a resident's back door.  Police arrived and were unable to locate the subject for questioning.
The police department would like to remind the public to contact police if you witness something suspicious.  They can be reached at 785-537-2112.