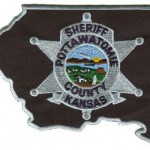 The Pottawatomie County Sheriff's Office received a report from Wamego High School officials, on Saturday March 1st, that some students were provided marijuana during a school event in Salina.  Pottawatomie County Sheriff Greg Riat informed KMAN Tuesday that a Sheriff's Office K-9 handler responded to the high school and initiated an investigation.  
As part of the investigation, a search warrant was conducted on March 5th in the City of Manhattan.   Austin Waters,  19, formerly of Wamego, was taken into custody for illegal drug related charges.
Sheriff Detectives next applied for an arrest warrant for an individual who was identified in the investigation as another possible suspect.  On March 7th, Sheriff Deputies took  Jacob Christie, 18, of Wamego, into custody.  He was arrested for possession of marijuana with the intent to distribute within 1000 feet of a school and unlawful possession of a controlled substance.
Christie is currently being held at the Pottawatomie County Jail on a $5,000 bond.