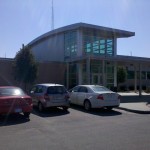 The Riley County Police Department responded to a complaint of burglary in the 3000 block of Tuttle Creek Blvd. on Wednesday for an incident that occurred the prior night. RHP Properties LLC officials stated to police several items were taken from their office.
These items included a safe, lock box, digital camera, and U-S currency totaling an estimated loss and damage amount of $19,200.There have been no arrests made at the time of this report as officers continue to investigate.
###
A 37-year-old Manhattan man was arrested just before 11 Wednesday morning in the 2100 block of Sloan Street in Manhattan.
Toby Arganbright was arrested for a failure to appear warrant with the original offense of domestic battery. He was being held on "no bond" at the Riley County Jail.