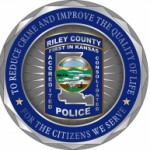 A Manhattan man who was convicted in a home invasion case Saturday immediately faced new charges later that day.
Riley County Police released more details Monday regarding the arrest of  Levertis Horne, 22, for possession of drug paraphernalia and possession of unidentified drugs.. This arrest occurred Saturday at 5:30 PM, about six hours after he was convicted of several charges in another case.
Police say items of evidentiary value were located at a residence inhabited by Horne during a police investigation for illegal drugs in the Manhattan and Riley County area. Horne was confined and later released on $5,000  bond on the latest offenses.
Horne was convicted Saturday on two counts of attempted aggravated robbery , aggravated burglary, and  aggravated battery.
###
More details were released on a couple of weekend arrests Monday morning.
Rebbekka Miller, 23, of Wamego was arrested, confined, and later released on$5,000  bond after police conducted an investigation into theft and making false information against Home Depot in Manhattan. Miller was investigated for using her position with the company to receive personal monetary gain. She was arrested on Friday at approximately 2:10 PM. And Friday at about 11:30 PM, officers with the Riley County Police Department arrested Mohammed Abduljabbar, 26, of Manhattan for the offense of violating a protection order and stalking. He was confined and later released from the Riley County Jail on $7,000 bond. Due to the nature of this investigation, further information has been withheld.
###
Riley County Police responded to a complaint of aggravated battery in the Aggieville Business District near the intersection of 12th Street and Moro on Saturday at approximately 2:40 AM. When police arrived on the scene they were able to determine that Jonathan Gomez-Hidalgo, 23, of Fort Riley had been struck unconscious by Curtis Heitfield, 21,  of Herington.
Heitfield was arrested for aggravated battery, battery, and disorderly conduct. His bond was set for $5,000 and he has since been released from the Riley County Jail.
###
A 33-year-old Manhattan man was arrested Sunday for driving under the influence of alcohol, refusal of intoxilyzer, and driving while suspended. Eric Ortmann was arrested near the intersection of 11th Street and Poyntz Avenue  at approximately 3:10 AM. Bond was set at $8,000.