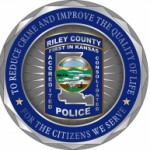 A report of criminal damage to property was filed with Riley County Police Wednesday morning. The case reportedly occurred in the 1400 block of Fairchild in connection with an incident that occurred sometime the prior day.
Manhattan Christian College reported the damage,  after finding a rock sign with spray paint on it. Currently the subject or subjects responsible for this vandalism, which caused approximately $1,500 worth of damage, are unknown. 
Those with  information about this crime are asked to contact RCPD or the Manhattan Riley County Crime Stoppers.