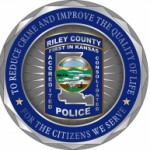 A Manhattan woman was hospitalized following an accident Thursday afternoon near the intersection of Fort Riley Boulevard and Richards Drive in Manhattan. Letia French, 51, remains a patient at Mercy Regional Health Center.
Riley County Police report French was heading west on Fort Riley Boulevard in a 2011 Ford Taurus, which collided with the back end of a 2004 Pontiac Grand Prix drive by Luke Helten, 21, of Manhattan, which was at the stoplight heading west, also on Fort Riley Blvd.
Helten was not injured. Riley County EMS did transport French to Mercy Regional following the accident, reported at about 2:30 p.m.
French was cited for inattentive driving. This accident caused delays near the intersection for a short time.
###
A Georgia man was arrested by Riley County Police Thursday on a bond of just over $5,045.
Arrested for a failure to appear warrant with an initial bond of $45 was Deandre Griffin, 38, of Norcross, Georgia. He was arrested at approximately 5:30 PM and was later found to have brought marijuana into the jail facility in a concealed area of his person.
Griffin  was arrested for this offense and was ultimately confined on a bond of $5,045.  However as of Friday morning, he was no longer confined at the Riley County Jail.
###
A Manhattan man was arrested early Friday morning for cancelled or suspended driver's licens and habitual violator of unlawfully operating a vehicle.
Anthony Conforti, 21, was taken itno custody shortly after three a.m.. Bond was set at $5,000.