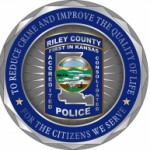 The Riley County Police Department has made an arrest in connection with a burglary and criminal damage to property investigation reported earlier this week.
19 year old Dillon Short, 19, of Manhattan was taken into custody on several possible charges including burglary to a dwelling, felony theft, obstruction of the legal process, misdemeanor theft, and making a false writing. Short was arrested in the 8800 block of Green Valley Drive at about 1:40 Wednesday afternoon, and was later released from custody on $10,000.
RCPD filed a report Sunday after Everett Adkins reported losing possession of several hunting supplies, a rifle, and a shotgun, with estimated loss and damage of more than $2,000.
###
A Topeka woman was taken into custody by Riley County Police on a warrant from Shawnee County for theft.
Melanie Ramsey, 36, was arrested while at the Riley County Police Department  Wednesday morning.  Her bond was set at $5,000.
###
Riley County Police are investigating a report of theft in the 2300 block of Stagg Hill Road.  
The incident allegedly occurred sometime during the month of April. Enterprise Rental reported that a Toyota Rav 4 valued at nearly $21,852 was rented to a customer and after several attempts to get the vehicle back, it was still not returned.
The company has reported the vehicle as stolen and currently police are investigating the matter. No arrests have been made at the time of this report.
###
Riley County Police  are investigating a reported criminal damage to property case in the 2300 block of Indian Mound Lane. Billie Hughes, 82, of Manhattan reported an unknown subject(s) had shot an arrow into his air conditioning unit creating damage worth approximately $2,000. Currently no citations have been issued or arrests made, as officers continue to investigate the matter.