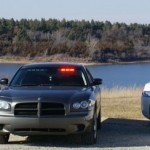 Recovery efforts to locate last week's drowning victim in Geary County continue. Thomas Hedrick, the victim of the drowning that occurred at Milford Lake on Tuesday Christmas Eve, has still not been located. Previous attempts had been hampered by unfavorable weather conditions.
Geary County Sheriff  Tony Wolf hosted a meeting Monday morning with agencies that continue to be involved with the recovery effort.
Those groups include the Geary County Sheriff's Department personnel, Geary County Emergency Management, Kansas Department of Emergency Management, U.S. Army Corps of Engineers, Kansas State Park's Department, Kansas State Wildlife and Parks, Ft. Riley D-E-S, Ft. Riley P-D, and Ft. Riley 1st Infantry Division.
 Due to the anticipated break in weather conditions, plans to continue the recovery effort is scheduled to reconvene Tuesday. During the meeting all available state and local assets have been coordinated and will be assisting,  including numerous boats equipped with enhanced side scan sonar, cold water dive teams, and other support assets.
The area will continue to be secured during the operation. All civilians are requested to stay clear of the area, as to not hinder recovery efforts.